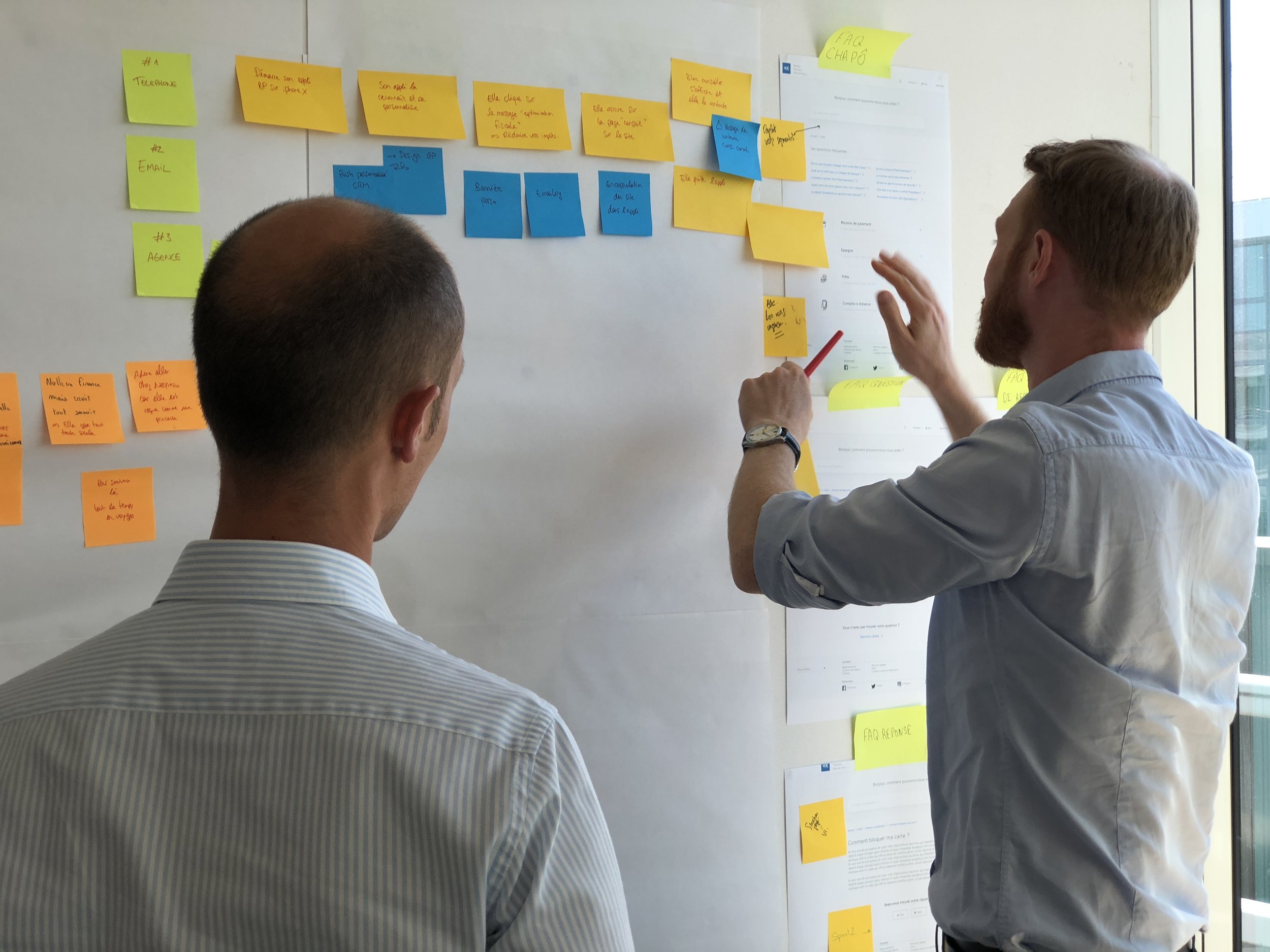 Leading engaging and productive working sessions
We combine expertly trained and experienced Facilitators with APG's proven workshop methodology to ensure your time and energy are well-spent
APG's consultants have a wide breadth and depth of experience related to facilitation, advisory and analysis. The type of sessions facilitated by APG include concept and ideation generation, current state assessment, organizational effectiveness and redesign, technology requirements elicitation, process optimization, technology rapid prototyping, strategic planning, and focus groups.
We provide strategic advisement in the areas of vendor assessments, performance management, business case, risk assessment, and organization design. APG's depth in analysis includes current state assessments, KPIs and measures, cost/benefit analysis, requirements definition and process definition.
Our approach begins with seeking to understand your definition of success for each engagement. Understanding success criteria is an essential part of mitigating the risk of missed or misunderstood expectations. APG will meet with you to collaboratively design an engagement and implementation plan that ensures participants are informed, excited, engaged and involved.
What is Facilitation?
Facilitation is akin to conducting a symphony orchestra: a facilitator ensures that all meeting participants work in a harmonious manner, are productive with their time together, and achieve the outcomes they seek to accomplish. A facilitator is an independent consultant whose mission is to execute a productive working session.
What do Facilitators do?
Facilitators guide participants on a journey from point A to point B: we typically begin in a place of uncertainty and disconnect and end in a place of alignment and consensus.
Facilitators ensure:
Participants understand what will be done in the meeting and why.

Participants are kept interested and engaged throughout the meeting.

Participants stay focused on the topics at hand.

Participants interact openly and productively.

Participants develop creative solutions that address the issue.

Participants understand and are committed to the solution.

Disagreements are resolved effectively and efficiently, with all parties feeling their views were heard and respectfully considered.

Dysfunctional behavior is addressed swiftly, with all parties feeling the group's norms were respected and violations of the norms appropriately addressed.

At the completion of the session, participants understand the decisions made, and the follow-up actions to be taken, by whom and by when.
The stakes have never been higher
Do you have a meeting coming up that is mission-critical or has high visibility?
We can help you prepare, conduct and report outcomes of your meeting.
Contact us for more information
Why engage an outside Facilitator?
As a professional, you have led many meetings and working sessions with colleagues. When you convene a meeting with colleagues, they have a predisposed idea of your personal agenda, how the meeting with be conducted, what is likely going to go well and what is likely not going to go well. This bias exists because you know one another and have history with one another. As the meeting organizer, you probably have a point of view you wish to express during the meeting, which makes remaining objective that much more difficult.
An outside Facilitator will work with you to create a reasonable agenda customized to your goals. They will ensure the meeting space is properly outfitted and arranged, all necessary materials are prepared ahead of time, and take care of all logistics that can sometimes distract from the meeting itself. During the meeting, the Facilitator will be respectful of all attendees, ensuring all attendees are well-informed, engaged, excited and involved during the course of the session.
We work together to design an engaging and productive meeting
Step 1 - Leadership Alignment and SETTING of OBJECTIVEs
We work with your company's leadership to ensure all responsible parties understand the success criteria for the meeting. Your APG facilitator will seek a commitment from leadership to take the time needed to develop a plan for and execute the meeting. We will discuss a plan for gathering information that will be useful inputs into Facilitation Plan Development, such as reviewing current state assessments, research, opinions, and more.
Step 2 - Facilitation Plan Development
Your APG facilitator will carefully craft a Facilitation Plan that defines meeting logistics (date, time, location, food & beverage), agenda, workshop activities and necessary materials.
APG has a rich toolkit of activities that we can execute, and will recommend activities based upon the objective of the meeting, personas of the participants, and available time. Some of our activities include Remember the Future, Mission Impossible, Innovation Generator, Business Model Canvas, and many more. Each activity in the Facilitation Plan can be custom-tailored to the needs of the meeting.
The Facilitation Plan will be shared with your company's leadership to gain buy-in to the approach and refine as necessary before conducting the meeting.
Step 3 - Conduct the Meeting
On the day of your meeting, your APG facilitator will arrive early to ensure the facility is optimized for participants. As participants arrive, they will be personally greeted. The meeting will begin with an introduction by the facilitator, opening remarks from the senior-most leader in the meeting, an explanation of logistics and the agenda. Then the real work and fun begins with the first item for discussion!
After the agenda is completed, the meeting will end with a recap of decisions made, and the follow-up actions to be taken, by whom and by when.
Not only will participants feel engaged, they will feel a huge sense of accomplishment and also learn facilitation best practices from the APG Facilitator.
Let's connect